I am confident I can deliver on that promise because of the amount of research I put into every project. Understanding what you want before I start sketching is key to delivering a perfect commissioned piece for instance.
In my 20 years as a full-time artist, I am proud to say that I've received a 5-star rating from all of my clients. I love my clients. They trust me and I am blessed to be able to offer art with all of my heart to make people happy.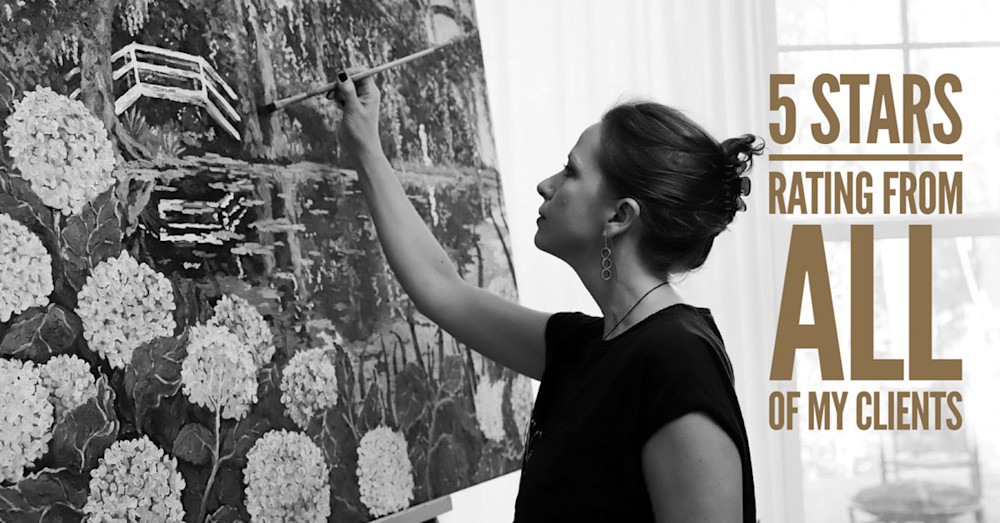 From the Press and Collectors:
Second Place with Shem Creek at the Mount Pleasant Art Fest.
"Love the Van Gogh like Quality and the Palette is Satisfying and Vibrant."
– Robert Lange, competition judge, 2018.
"Fernanda put her whole heart in her Art, I met her traveling South America looking for inspiration, and I witnessed how she put her whole soul to recreate magic, beauty, and textures into her paintings.
Her art with jewelry it's also one of my favourite!"
– Fernanda Prado Ibacache, 2018
"Fernanda's work is beautiful and we are lucky to have her talents here in the Lowcountry!"
– Tood Chass, 2017
"Fernanda's work is wonderful! She is very sensitive, creative and professional! Her painting gave life and sweetness to our home! Wonderful person and artist! :)"
– Daniela Provedel, client, 2017.
"We love Fer's work! Our home is filled with her paintings and decorative and art objects, my daughter has a totally personalized wall in her bedroom, and I have jewelry designed by Fer too."
– Janaina Xavier, client, 2017.
"Fernanda unites talent and unparalleled sensitivity. We wanted a painting for our room that would convey our passion for the mountains. After knowing the space, the style of the decoration and having a good conversation we sent some references and gave total freedom for the creation to the artist. The result was amazing, vivid, colorful and full of emotion. Even after months hanging we still find ourselves contemplating the work."
– Marcela Fontes, client, 2017.
"Fernanda is an amazing artist!
Very creative, works fast, is proficient in many techniques…
I've known her for over a decade and have admired her work from the day I met her.
In 2013 I hired Fer to transform a huge 30 feet long by 10 feet high wall into a landscape and she did an incredible job, starting in a night downtown skyline, turned into a sunny park with a playground next to a few buildings like school and home for the kids to play, then into a massive tree of life all the way to the ceiling with a tunnel going through it connecting the park to a beach and then she added some sea life into the ocean.
It was unbelievable! So much more then I ever hope for! My kids went crazy over it playing pretend with paper toys and making up stories.
Can't compliment or thank her enough!!!"
– Luciana Feldberg, client, 2016.
"The passion and commitment that Fer brings to every work of art are unmatched. Each painting expresses her heart and soul – the canvas is her play space. She sees the world in vivid colors that the ordinary eye just can't visualize and uniquely captures and preserves that moment through color and texture. Any serious art collector should take notice; she's one to watch!"
– Martha Guidry, client, 2015.
"Luscious, chunky, sensuous, tactile, and flooding past the canvas edge – observing Fer Caggiano's intense figurative works is an intense barrage of sensibilities. She depicts the nude (a classical painting subject), yet does so with a post-abstract expressionist energy. A self-described neo-expressionist, her work reflects skill in representation and abstraction. Of particular note is her use of vigorous impasto with oil paint. The thick opaque creamy paint displays her keenness with abstract form and the relative objects she paints. A theme of generous form runs through her subject matter as well as her formal construction. Fer paints Rubenesque, full figured women inside patterned cloth laden spaces. Her color feels Fauvist with wild brightness. The space envelops the women she paints. Fiery floral colors and soft drapery pour over the women. Her warm canvases are filled with the melancholic disposition of her subjects and the simultaneous movement of Caggiano's painterly strokes."
– Van Stokes, ARTMINE.com, November 2003.
"For a young Brazilian artist residing in New York, nothing would seem more natural than using her process of creation to evoke the rich cultural references of her native country. But Fer Caggiano does not exploit this obvious course. Perhaps the sensual profusion of vibrant colors and forms in her pictures indirectly refers to the physical generosity and moral characteristic of her native land. Her work, however, transcends all culturally influenced perceptions of either the artist or the spectator. In the fleshy texture of a face, in the sensual curvature of a shoulder or a breast, Fer discloses the privacy of the body. The final image is presented bare of any cultural, territorial or secular reference with her overwhelming individuality. Out of this ostensive exposition of the body, that by itself is purely ephemeral and transitory, she seems to accomplish a direct relationship with an intimacy that hides under the surface of the forms and the colors. The goal of this incessant and obsessive work of creation is translated into exuberant images and individual enchantment and discloses the privacy of the human soul."
– Gilberto Yamamuro, August 2003.
After the Solo Exhibition at BAMA Galleries
"With an obscure familiarity, a silent restlessness is exposed with fervor and wonderment. Florid expressions find their way onto the canvas through a multicolored array of dynamic brush strokes. Coupled with unexpected observation and an undeniable intimacy one feels breathless, an intruder before exaggerated, sensual curvatures.
Evoking interest and vigor with splashy tones and reflective backgrounds, Caggiano expressively and dramatically demonstrates intimacy by exaggerating sensual curvatures. Through this intimacy, the room becomes distinctly aromatic – silky sweat beads a furrowed brow – city street pandemonium turns to melodic contendeness: whispers of a verisimilar pepper the canvas and consideration of the eager spectator."
– Debbie Sullivan, SINGER, SONGWRITER IN L.A., May 2003.
A Major Latin American Sampler at Agora Gallery
"…the figure comes to the forefront in the work of Brazilian realist Fer Caggiano, whose oils on canvas of women with formidable proportions have qualities in common with the paintings of Lucian Freud. In both her clothed and nude figures, Fer Caggiano captures the palpable presence of her plus-size models with affection and impressive painterly panache."
– Lawrence Downes, GALLERY&STUDIO, April/May 2003.
Winning SoHo – Veriga wins international art competition
"Depicting the human body in oil-on-canvas has long been a sample of traditional art, but few artists can make their work transcend the canvas to create a visual impact. Fer Caggiano is one of those special artists."
– Eugene Mulero, HUDSON CURRENT, August 22-28, 2002.
"Fer is an inspired, unfettered painter whose work not only demonstrates a bold and spirited relationship with the medium, but also reflects the sensibilities of her clients. Her art is contemplative, vibrant, flattering to the surroundings, lush and just a bit arresting. My wife and I anticipate the opportunity to acquire more of her work."
– John Guidry, client, 2015.
"Fer is an excellent artist, with her own strong style, who has moved beyond the stage of "up and coming" to making painting her full time position. This benefits the public greatly as we can now expect to see many more pieces on the market. Winner of the Soho International Artist of the Year among other awards, I have sat for and purchased from Fer and consider myself lucky to do both."
– Susie de Rafelo, client, 2015.